Illusion Consultation and Development

Founded in 1976 by William Schmeelk, Wellington Enterprises provides full conceptualization, development, engineering, and construction of illusion events. We handle the set-up, staging, and dismantling of our performances. We staff and manage spokespersons and magicians for the staging of events. Our clients include some of the biggest names in show business. Reknown for the quality of our craftsmanship, our magician props and handcrafted close-up magic devices are in demand by professionals and amateurs alike. See our product list.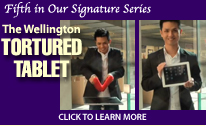 This Apple is golden!
Wellington takes on new technology and tortures it! If you want to shake up new audiences and wake up old ones, no illusion will do it better than this one. You fold, spindle and mutilate an iPad! You have to see it to believe it!
View the Video Demonstration!
Be ready to perform this illusion
many times over!
---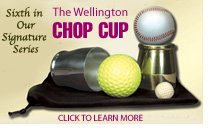 Perfect Cup has finally been achieved! The NEW Wellington Version offers some unique properties that improve upon Al "Chop Chop" Wheatley's classic 1950's illusion. Available in either a lightweight aluminum version or a heavyweight brass version, these durable models will be crowd-pleasers for a very long time. See for yourself! Wellington quality sets them truly unique!
---

It's hard to improve upon a Classic - but we've done just that! The NEW Blaney's Great Escape has just been released. View the Video Demonstration of this reliable crowd pleaser!
Finally – a strong and durable table base designed to travel! Wellington proudly offers its new practical table base. The Ultimate Table Base has been designed from the ground up to meet the needs of the working professional. You've got to see it!
Watch for our upcoming DVD highlighting some of our newest releases. This new DVD will combine new product information along with all the material from our See-thru Guillotine and Mirror Passage videos.
See our new version of Terry Elton's Something, Nothing and More. We've added features that will heighten your audience's experience! Check it out!
Hand-crafted Magician Props and Illusions
There is no deception in our quality and commitment to professional standards. Window-shop by browsing through our product offerings or See our product list. We offer the highest quality custom illusions in the industry.
Featured Illusion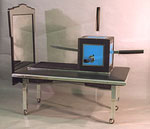 The Origami Illusion is an extremely clever and puzzling illusion invented by Jim Steinmeyer. Here's how it looks to the audience: A small box, about 12 inches square, is unfolded, becoming large enough for the assistant to enter it. Once she is inside, the box is again folded down to a small box. There is apparently no place for the assistant to be. Then, to further prove the lack of space, three long samurai swords are thrust through the box from all sides. The above photo illustrates this point in the performance. The illusion can be completely revolved, showing all sides. There is simply no place for the assistant to hide. Next, the swords are removed and the box unfolded, revealing the assistant. A stand with matching casters is also available to hold the mirror and swords. See The Origami Illusion for yourself!