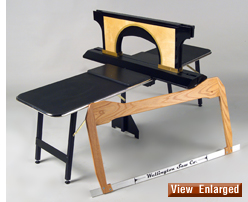 Now you can confidently saw anyone in half! The sawing of a member of the audience in half is not a new trick, but there have always been drawbacks. Now, after several years in development, Wellington Enterprises is proud to announce our new Executive Sawing Perfected. Now you can perform this effect with confidence.
Look at these unique features:
The saw is substantial and looks like it could really do the job.

The saw can be handled quite freely both before and after the sawing is done. It can even be held upside down or handed to the spectator to hold. There is no loose section to worry about.

There are no vertical lines cut into the blade. The blade looks quite ordinary — even at close inspection.

Other than the saw itself, there are no moving parts or complicated mechanisms to restore the blade. The effect is made easy through precision machining and automatic operation.

Operation is automatic — no buttons or levers to operate.

The stocks automatically adjust to fit the waist size of the spectator up to a 40-inch waist.

Can be performed under extreme conditions, completely surrounded with no angle worries.
This is the ultimate in deception and ease of operation — all made possible through precision machining and the craftsmanship for which Wellington Enterprises is well known.
The illusion packs in two optional ATA cases and can easily be transported in any car.
Price: $6500.00