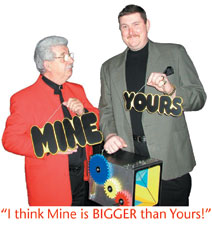 If you've ever seen Terry present his Something, Nothing & More routine, you know it packs plenty of entertainment value. The effect is based upon the magical production of words, blended into a hilarious routine involving the magician and several members of the audience. Great for all ages. You start by showing the box, a Bilateral Thermafloid to be unmistakably empty - it contains nothing - and that's exactly what you produce from it - NOTHING! In all, seven large words are used in this routine, several of them too large to fit back in the box.
When Terry expressed an interest in sharing this routine, we were delighted to work with him to improve the props and present it in a way that was truly worthy of the Wellington name. After more than a year in development, we're thrilled to offer Terry's Play on Words - a complete routine.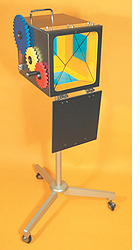 The complete outfit includes the special box mounted on Wellington's Ultimate Table Base. This unique table base is truly the ultimate - strong, sturdy, packs small and looks great on stage. It assembles in seconds without tools or loose hardware. The words themselves are colorful and crafted from 1/2" thick plastic - no paint to chip and through clever design some are actually larger than the box they come out of. The optional ATA case measuring 16 x 15 1/4 by 14 1/4 inches, carries the entire act.
Also included is Terry's 15 page manuscript which guides you through every step of the performance, including a wealth of tips he's garnered over the years performing the trick. Watch an actual performance on the included DVD. A complete package of entertainment - ready to add to your act.
Complete outfit includes Box, Ultimate Table Base, Words, Routine and DVD