We've improved a timeless classic!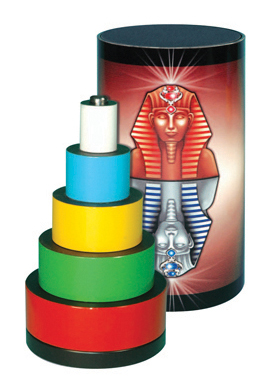 Back in the early 1960's Don Pott's clever creation, The Mystery of the Pyramids was marketed by U.F. Grant. The effect was simple and amazing. A stack of differently colored checkers, each one smaller in diameter, was covered with a cylinder and turned upside down. When the cylinder was lifted, the stack was upright. The effect was fascinating, but had some limitations. Only the top two checkers could be lifted off of the center rod.
After much experimentation, Wellington is proud to offer its own solution to the mystery. We have devised an improved method, allowing each of the checkers to be lifted off of the center rod individually, greatly enhancing the mystery. At any point in the demonstration, each of of the checkers can be shown to be separate and even removed from the center rod.
The effect can be repeated as often as you like and the checkers shown separate at any time. Unlike the original version, ours is precision made to the highest standards. This new method has no sliding checkers and the entire operation is accomplished without any noise. Each of the checkers, the base and the cylinder is precisely machined from plastic. The center rod is chrome plated brass and the cylinder is decorated with class. The stack stands 7 inches tall and the largest checker is 4 inches in diameter. This will fool those who know the original version!