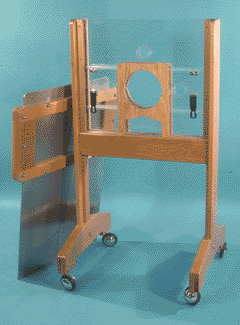 This new version of the head chopper is a real fooler. The stocks are transparent and the blade never leaves the view of the audience. This is also the only chopper, to our knowledge, that will cut vegetables above, below, and to each side of the head, while not harming the spectator's head. The illusion can be done under all conditions, including up close and surrounded. A sturdy carrying case is provided. The optional stand provides a convenient holder for the blade and has been designed to pack in the same case with the chopper.
Listen to what the pros have said about this new chopper:
Jim Steinmeyer: A spectacular idea and a beautiful, quality piece of apparatus. Now the head chopper is not only entertaining, but amazing as well. To professionals, it's worth its weight in gold.

Mike Caveney: The best thing to happen to the Guillotine since the extended blade. Finally this classic one-man illusion has been given a look that is suitable for the 1990's. The See-Thru feature not only gives it a modern appearance, but doubles the mystery value. It looks absolutely impossible.

Jeff McBride: An ingenious and deceptive device - the method fooled me, even close-up!

Bill Schmeelk (Owner of Wellington Enterprises): I think everyone should buy one!
See why everyone is talking about the See-Thru Guillotine.

Call for Price
Blade Stand Included (See a full description in our product listings)
Demonstration Video Available


55 West Railroad Ave., Bldg.3D, PO 315, Garnerville, NY 10923-0315
845-429-3377