Second in Our Signature Series Collection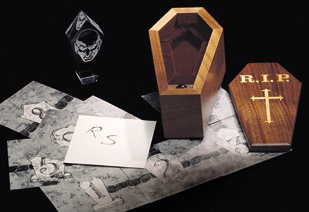 We proudly offer the second release in our Signature Series of Handcrafted Miracles, a truly deluxe version of Mark Setteducati's Guardian of the Grave. We've added several enhancements, adding to its mystery and making it more foolproof. Improved electronic circuitry allows us to add several new features.
Nine tombstone cards are shuffled. The spectator selects and signs the back of one card. The cards are set out on the table face up, forming a graveyard map. The spectator selects the tombstone on which the Guardian figure will start. Next, the spirit of the Guardian speaks from the coffin, directing the spectator through a series of moves, removing a tombstone after each one.When the final card is turned over, it proves to be the card with the spectator's signature. The spirit gleefully proclaims his success.
Perform it again and again with a different ending. It's so much fun, you'll amaze yourself with it!

Look at these great features:
The Guardian is crafted from crystal clear acrylic and obviously contains no gimmickry. All of the electronics are enclosed within the coffin.

The graveyard map is cleverly designed, allowing you to easily explain how to move the Guardian.The cards are heavy stock, laminated front and back.

The coffin lid is finely crafted of solid walnut and finished in clear lacquer. Birch accents on the lid complete the design.

The trick is entirely self-contained. There is nothing used that isn't in full view of the audience ­ no extra gimmicks.

This is an effect you will be proud to own!