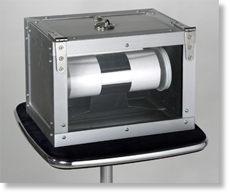 The most Mystifying, Practical and Portable
All-Purpose Prediction Ever has now
been IMPROVED!
Dick Zimmerman's award winning Master Prediction has been recognized by many professionals as the best and cleanest method to make a prediction. We now take pride in offering a new version with improved features – The Clear-Vue Master Prediction. Initially designed over 20 years ago for Harry Blackstone Jr., Wellington has taken the idea for a windowed box and brought it to the ultimate in design.
A strongbox with Lexan® windows front and back allows a clear view through the box. The capsule and the prediction
it contains are in full view, removing all doubt that the prediction has been in place from the start. At any time in your act, you allow members to call out or freely select anything you wish – numbers, cities, foods, the perfect car, etc. with no controls or conditions.
All selections are made freely and without the use of any force. Next, calling attention to the strongbox,
you explain that what they see inside is a "Time Capsule" containing a prediction of the selections just named by audience members. The chest is unlocked, opened, and the large 9 inch by 4 inch clear plastic container is removed. The lid is unscrewed and an audience member removes the large prediction. He opens it and reads the prediction. It is 100% correct!
Look at these unbelievable features:
The capsule and its prediction are in full view!
The prediction can be large, rolled or folded as often as necessary to fit.
Complete with over 15 pages of commercial routines, plus many tips.
Extremely portable. Includes Wellington's Ultimate Table Base –
strong and sturdy yet packs small. .
Built in the tradition Wellington has become known for – rugged and reliable.
Easy to do and can be done within six feet of the audience.
Great for trade shows, sales meetings, cruise ships, etc. where a custom prediction is very powerful and commercial
This new version is compatible with our standard version. If you already
have the standard version, you can purchase only the strongbox – it will work on the table you already have.
Price: $3,795.00
Custom Fitted ATA Case: $350.00
For those who own our original Master Prediction,
the strongbox alone can be purchased for $995.00.
Still available and still great –
Original Classic Master Prediction - $2995.00
---
Announcing Wellinton's Ultimate Table Base! Finally -a strong table base designed to travel! After working with several existing table bases,we decided that the only way to get the ultimate table base,one that would meet the demanding needs of a professional perfomer,was to design one from scratch.After many months of experimentation,we proudly present the Wellington Ultimate Table Base. We designed it from the ground up with a combination of features you won't find on other table bases. Look at these unique features: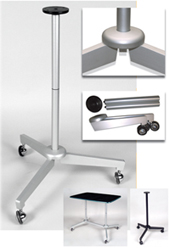 The table is heavy duty and rugged. It is difficult to tip and made to withstand constant usage.

The base packs small and will easily fit in suitcase.The striking design complements any stage setting.

There are no loose bolts or nuts required for assembly.

A unique design allows the table base to fold up easily,yet lock securely when opened.

The legs of the base have been machined for casters and the base is supplied with high quality Shepard casters.

The three point base means that the table will stand securely without wobbling - no levelers required.

The specially made flange is wide for extra support.

The center column is made from thick wall aluminum tubing designed to resist denting and unscrews at the center using heavy-duty threads that are virtually impossible to cross thread.